Process
Our investment process begins with non-traditional idea mining.  The micro-cap universe includes over 3,000 companies with filings that are often incomplete or don't tell a business's complete story.  As a result of our thirty plus years of experience investing in microcap equities, we know that uncovering potential investment ideas in the micro-cap space takes much more than traditional database screens.
MicroCap Investing Requires Non-Traditional Idea Mining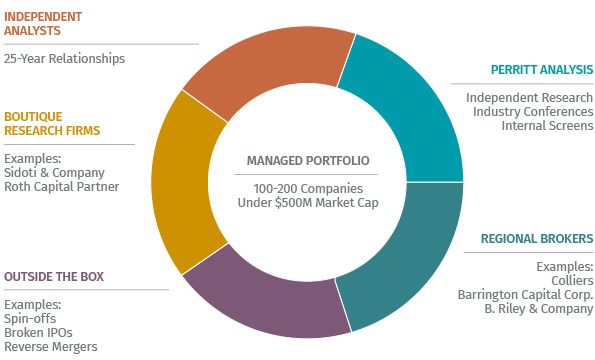 We meet with CEO's of small companies on a regular basis.  We then follow a repeatable investment process that uses a bottom-up approach, favoring fundamentally sound companies with modest valuation multiples relative to long-term growth prospects.  Steps in our investment process include:
Companies are first subjected to a nine-point evaluation — based on balance sheets, cash flow statements and income statements — that we believe demonstrates whether a company is acting in the interests of its shareholders.
For companies whose fundamentals look favorable based on the nine-point evaluation, the next step is to assess its broader business prospects. The focus of this step is to identify growing, niche companies with innovative products and/or services and the potential to build franchises and brand.
Stocks are then assessed based on valuations, and are considered for purchase if they fall under a range of valuation determinations, including GARP or Deep Value.
Growth at a reasonable price (GARP) is an investment strategy that combines tenets of both growth and value investing by finding companies that show consistent earnings growth but don't sell at overly high valuations. Deep value investing seeks to purchase stocks at an even greater discount to their intrinsic value.
Quasar Distributors, LLC is not affiliated with these regional brokers.