News
Dr. Gerald W. Perritt, Founder of Perritt Capital Management, Passes Away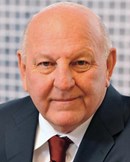 October 9, 2018, Chicago – Perritt Capital Management announced that Dr. Gerald W. Perritt, age 75, the firm's founder, passed away Saturday morning, October 6, 2018.
"We are sad to report the loss of our founder, friend, teacher, and mentor.  Dr. Perritt was a pioneer in the mutual fund industry.  He was one of the first in the industry to track performance and industry dynamics, and to champion mutual funds as an investment option. He launched The Mutual Fund Letter in 1981, a monthly newsletter tracking the mutual fund industry.  Dr. Perritt's flagship newsletter was Investment Horizons where he wrote about micro-cap investing.  He also created the Perritt MicroCap Opportunities Fund, one of the first micro-cap mutual funds, in 1988," stated Michael J. Corbett, the current CEO of Perritt Capital Management.
Dr. Perritt was a prolific writer, sharing his insights and expertise through newsletters and books, including Small Stocks, Big Profits, Mutual Funds Made Easy and Expanding Your Investment Horizons.  He was also a columnist for Forbes Magazine. Dr. Perritt was frequently quoted in such publications as The Wall Street Journal and Barron's.  "He was always generous to share his wisdom, knowledge, and experience with his staff, grooming successful investors." said Corbett
Teaching was a passion for Dr. Perritt. He taught and mentored many throughout his illustrious career.  He served as professor at several prestigious universities, including Ball State University, Babson College, University of Miami and DePaul University.
Michael J. Corbett added, "Our thoughts and prayers are with Dr. Perritt's family and loved ones."