News
Distribution Update
The Perritt MicroCap Opportunities Fund and the Perritt Ultra MicroCap Fund paid long-term capital gains distributions on 11/22/19 to shareholders of record on 11/21/19.
The long-term capital gains (LTCG) distribution in the Perritt MicroCap Opportunities Fund (PRCGX) was $0.80330 per share and $0.02347 per share in the Perritt Ultra MicroCap Fund (PREOX).
There was no ordinary income or short-term capital gains distribution in either of the Funds for 2019.Long-Term Capital Gains distribution: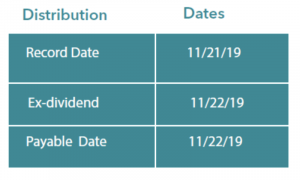 Please visit our website at www.perrittcap.com/index.php or call 1-800-331-8936 for more information.  Thank you for your investment and trust in the Perritt Team.
Click here for research and insights regarding small company investing.
Click here for a prospectus.